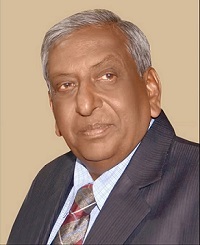 Lifetime Trustee and President of Shri Rajasthani Seva Sangh and Chairperson of Shri J.J.T University
Born in Mumbai on 4th May 1946 in an aristocrat Rajasthani family, he completed his preliminary education in Parle College and obtained B.Tech from VRCE Nagpur. He further did his LLB from Mumbai University. He is married to Umadevi in the year 1969 and is blessed with one son and two daughters - Mr. Vishal, Mrs Sonal and Mrs. Neha. All are married. He has two grandsons Yash and Ashutosh. Staying at Tibrewala House, J.B. Nagar, Andheri – East, Mumbai 400 059.
Mr. Vinod Tibrewala had joined his family business immediately upon completing the education in the year 1968 as Managing Director The company is called "Icem Engineering Pvt. Ltd located at Thane having primary capital of Rs. 13,000/- Today, the company has become Limited and the turn over is more than 50.0 Crores. The company has a niche in the field of dished end manufacturing and is one of the pioneer and leading manufacturing company of Pressure Head (under cold forming condition).
He is the founder President of "Fabricator's and Industries Association SSI of Maharashtra," formed to protect their rights. . It has several members and many have been benefited with the function of association. He took active interest in Thane Small Scale Industries (Founder Member), Chamber of Small Scale Industries Association, Process Plant manufacturing Association of India (PPMAI), Indian Institute of Welding (IIW), Bombay Management Association (BMA), .I.MO, B.S.S.I.A, N.D.T. Association, Export Promotion Council, Kandivali Industrial Association, Udyog Mitra Mandal, President of Association of Self-Financed Universities of Rajasthan etc.
He has been a Rotarian for almost 25 years and worked for the upliftment of people living in lower strata of Society. He has been an active member of All India Chamber of Small Scale Industry Industries Association of which he continues to be Vice President.melan etc. He is also the President of Association of Self-Financed Universities in Rajasthan.
During his tenure as member of Associations, he has confronted various hurdles from Government authorities and he fought tooth and nail. He fought the authoritarian functions and red tapism in government departments. He is one of the core group members to convince the authorities in elimination of excise duty in small scale sectors and increasing the clearance limit under small scale sector.
He has helped various industries and makes them successful entrepreneurs and saved many companies from becoming sick industries. When his son Mr. Vishal has completed his engineering degree, he handed over the affairs of Icem as Mr. Vishal is found to be enterprising and potentially dynamic to run the Industry. Thereafter, Mr. Vinod Tibrewala has become the Chairman – Emeritus of Icem and its group companies. He then felt that having completed the family obligation, to work for social sector where he came across suppression, ignorance, poverty, under privileged, and lot of disparities.
As a first step, he became Life time Trustee of Shri Rajasthani Seva Sangh – a premier charitable trust providing education. He has been the President and Trustee since 1999 and the Sangh has increased its strength from 300 to 8500 students on their roll studying in KG to PG. Here also, he made many reforms for the improvement of education and discipline in all sector. He is also a tough Administrator. He was the Academic council member from 2001 to 2005 and a Senate Member of Mumbai University from 2005-2010. As a member, he has recommended various job oriented course to be introduced in University and advised industries participation in framing the syllabi. He authored a book "Educational Reforms" and was appreciated by many scholars in the education field. He had covered all the lacunae's and difficulties in the field of education and suggested suitable solution. He fervently fights against nationalizing the education and focusing for privatizing the education.
He has been instrumental in modifying & improving the Laxmi Narayan temple run by Shri Rajasthani Seva Sangh at J.B.Nagar. The temple has 20000 sq.ft 3D paintings with real gold plating. He has also contributed service at Shakti Mandir at Jhunjhunu. It is one of the 10 largest temples of Rajasthan having accommodation capacity of more than 500 pilgrims and state of art conference hall having a seating capacity of 800. He has promoted various senior citizens groups, helped the needy in their hospitalization expenses, marriage expense. He has organized several Bhagwad Kathas & Spiritual programs, felicitated various educationalist, social works, Holy personalities, philanthropists.
He has been instrumental in building roads and other infrastructure in the Rajasthani Housing Society having 100 residential plots. He is instrumental in running a Goshala at Talaseri through Bharat Vikas Parishad. When he joined as a member of Bharat Vikas Parishad, it had only 5 branches in Mumbai and today it has more than 21 branches in Mumbai. He was also the Vice President of ICL Education Society running two Marathi, two English Schools and a science, Arts & Commerce College where almost 9000 students are imparted education.
He is a frequent traveler and travelled throughout India initially and later Europe, America to learn more in the field of education. He has visited Cambridge & Oxford University in London, Harvard University and Columbia University in US, Gurukul of Shri Rabindranatth Tagore, Vansthali University, Hyderabad School of Business, etc. He had a vision to set up a most modern university and accordingly started working in that direction. Today, Shri Rajasthani Seva Sangh has already started a self-financed University at Jhunjhunu in Rajasthan and in the first year only University has started research program and today, the University has registered more than 3000 Research Scholars and 2000 Ph.D Guides. Apart from the research, University is also teaching engineering and management courses. The University is setting up a Research Centre jointly with COSIA and has got ambitious plan to do research work in Industries and to start courses suitable for industries.
He has not only arranged donations from other Philanthropic people but also liberally donated from his own group companies. So far, he has donated more than 1.0 crore to 'Shri Rajasthani Seva Sangh.
He has been conferred many awards and some of them are as under:
TSSIA JEWEL AWARD FOR ICHEM ENGINEERING AS THE BEST INDUSTRY BY SHRI MANOHAR JOSHI THEN MINISTER OF HEAVY INDUSTREIS, GOVERNMENT OF INDIA.
KARMAVEER BY SHRI UDDHAV THACKERAY
KARMAYOGI BY AGARWAL SEVA SAMAJ
SAMMAN PATRA BY WORLD PEACH & ADHYATMA JYOTISH SHASTRA
KANTHAL BUSHAN
SHIKSHA MITRA PURASKAR
UNESCOW AWARD FOR THE SERVICE IN THE EDUCATION FIELD
He has authored books on "Sathi Pratha" in India and "Education Reforms". Other essays on various current topics are under publication.
He is working almost 12 hours a day and totally dedicated to social service, education and development. He is a beckon light in the encircling gloom, he is a living example of a value based life and a tireless fighter for the rights of the people. His work is par excellence and has no parallel
Shri Rajasthani Seva Sangh has instituted a national award in his name i.e, Vinod kumar Rashtriya Puraskar giving a cash award of Rs. 51,000/- on every year. The said award will be spread to all India level and about 100 best teacher's national award in his name would be bestowed to outstanding teachers selected by a committee and the award ceremony will take place sometime in June 2012.
He has been the senate Member as well as Member of Academic Council of Mumbai University.
Presently, He is the Chairperson of Shri Jgdishprasad Jhabarmal Tibrewala University, Jhunjhunu.
He is President of "Association of Self-financed Universities of Rajasthan" ASUR
---