Shriniwas Bagarka Junior College Of Arts Commerce And Science
---
From the Principal's Desk
---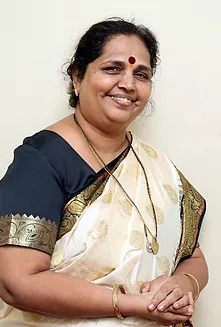 Prin.Dr. Vanashri Valecha
Education Director
Bearing the name of the great veteran, social worker and promoter of education, Shri Shriniwasji Bagarka, the college emerges as a strong pillar of the Sangh. The trust was formed by Rajasthani Youths who dedicated their lives in the freedom struggle and upliftment of the Society. In order to bring together the Rajasthani people staying in Mumbai as a cluster, to preserve their cultural and ethical values, Shri Shriniwasji Bagarka took the leading role in forming the socio-eco-cultural entity values, Shri Rajasthani Co. Operative Housing Society and Shri Rajasthani Seva Sangh which is registered under the societies Registration Act and Public Trust Act since last five decades.
The Patience and perseverance of the present president has played the major role in chiseling the college to perfection. An entrepreneur, philanthropist, educationist and self-less worker having wide knowledge in the field of engineering and textiles industries the president has worked as an office bearer of various industrial associations and represented the case of industries with several ministries and Govt. Dept. He is also a member of academic council of Mumbai University.
The dynamic leadership of the present management and under the guiding force of the trustee Shri Ramakant Tibrewala, the trust is achieving new heights of excellence in various fields.
---
---
The only Aided independent college which is neither attached to school or Degree College in Mumbai.
We give additional practical knowledge in every subject.
More than hundred skill development courses are available in the campus.
To enhance the personality of every student we teach:

o Spoken English
o Spoken Sanskrit
o Poem making
o Kitchen gardening
o Banking transaction and many more

We also show motivational and inspirational clippings to inspire the students.
To make students productive we conduct entrepreneurship development classes and "Maan ki Baat" sessions.
A 12 hour workshop on 'Mission Udaan' is made compulsory to all students to help them to set goals and make roadmap to achieve the goals Thus, a unique college for your child.
---
Teaching Staff
MRS.ASTHANA
PHYSICAL EDUCATION LECTURER
Mrs. JALEJA KURUP
LECTURER
MR.MAHAVIR JAIN.
LECTURER
MRS.MEENU NARANG
LECTURER
MRS.SAROJ SAWANT.
LECTURER
MRS.SWEETY DAVE.
LECTURER
MS.NEELAM SINGH.
LECTURER
MRS.SUREKHA DALVI.
LECTURER
MRS.PREMLATA SHETTY.
LECTURER
MRS.PREMJIT GATIGANTE.
LECTURER
MS.RUPINDER KAUR
LECTURER
MR.ALKESH YADAV.
LECTURER
MRS.POOJA DUBEY.
LECTURER
---
Shriniwas Bagarka Junior College of Arts Commerce and Science,
Shri Rajasthani Seva Sangh,
J B Nagar (Chakala Metro Station),
opp. Kohinoor Hotel, Andheri (East),
Mumbai-400059.
---